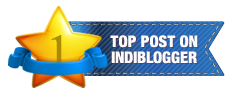 Every year I promise myself to stay away from Big Boss. But the Mr. Hubby – mom in law duo ensure I fall prey to the juicy gossips and join them in watching all the episodes.
When this season began, I was least motivated to keep up with Big Boss 7. Only Andy and Gauhar gave me some hopes of an entertaining season. It has been a trend that people engulfed in some controversy or generally not doing anything in life are called to participate in Big Boss seasons (who else would have three months to spare?) So when Tanisha's name was announced, I wasn't too surprised either. All I remember of her is the Kajol connection and a certain "Neal n Nikki" movie which we had comfortably opted to leave after an hour of watching.
On the launch night of Big Boss 7, Tanisha's name was announced with much fanfare. Honey coated introduction by Salman made him sound more like a representative of the Bollywood fraternity rather than the host of Big Boss 7. But when Tanisha arrived in the "yucks" red dress look, she justified her selection for Bigg Boss!
Not everyone is blessed with a fab body but madam could have shown a bit poise rather than
choosing
to lift the dress (typical Jhalla walla style!) while exploring the Big Boss House.
We viewers are not that ruthless after all. Puppy fat, kiddish tone, bad dressing sense, we took them signs of an overprotected,
immature
kid and thought that considering the family she comes from, she would prove to be one of the most balanced contestants of the house.
Poor Tanisha dear…the balancing act lasted just a week or two until Tanisha's eyes met Arman's. And thus began Tanisha's journey from good to bad. I wondered who is Arman, a 40 something short tempered arrogant uncle who still finds him cool dude. He calls himself actor, but when I googled it out, it showed he has delivered all flops till date! The only movie I could relate to was a certain Jani Dushman where Mr. Arman plays a snake (True to his quality of spitting out doses of poison!)
What Tanisha saw in Arman, she only knows, for that something made her dance to his tunes like no other snake would. She took on almost all other housemates, passing her unwanted judgement on other people's matters. While Arman earned all the footage, Tanisha earned all the brickbats. What more, even the Arman she countered the world for, snubs her away whenever other inmates question their "just friendship". The last time this happened, I recalled Kajol's comments about her sister entering the Bigg Boss house. She had said Tanisha has the quality to lead and organize everyone. Little did she know that fatal attraction robs away even the best of qualities in a person and Tanisha too is just a human being, though quite a dumb one.
Every weekend, it is the good old industry boy Salman who gives Tanisha subtle hints for what not to do as per the unspoken rule book of her filmy family. Be it his suppressing Protyusha to stay Tanisha afloat in the argument, or reminding Tanisha and Arman about the number of cameras in Bigg Boss house (the unsaid in that comment provided so much food for gossip minds!) Every Friday I watch Bigg Boss with bated breath, it might be Tanisha's chance to get evicted, going by the rising number of dislikes among the housemates. But whenever, Salman Khan announces her safe, I wonder, are the industry folks being partial to her?
While watching the show, often I think aloud – what is it that makes Tanisha so vulnerable to Arman, what is it that makes her run around him and do a constant display of being by his side, a'la true Bhartiya naaari! I know many women actually fall for guys who are dominating and arrogant, as they find it macho. But coming from the family of superstars, Tanisha certainly deserves someone much better than the baddie Arman. So, is it love for Arman, or love for footage that makes Tanisha hover around him? At her age and looks, she could be easily overshadowed by the Ooomph overdose Gauhar, or the cutie cutie Ellie…and maybe this Arman affair is just a spotlight gimmick. Whose name will be printed alongside hers on the wedding card, only time will tell...but my only advice to Tanisha would be –
People come to reality shows to save their failing careers. If you can't do anything good, at least don't go bad. Will make groom hunting easier for your family!